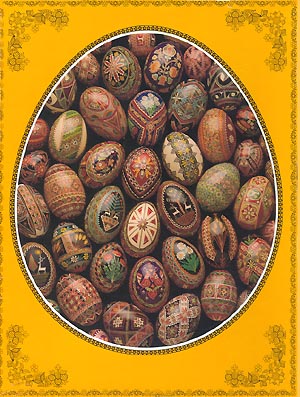 Lambs made of butter and eggs made of wood…
It must be a very traditional Polish Easter…
Their Easter Church services would be immediately recognisable to all English Catholics. However, Kidderminster's Polish community also maintain the age-old Polish Easter traditions celebrated by Poles worldwide as well as by their brethren at home in Poland.

The French call it Mardi Gras and the Poles call it Karnawal or Zapusty – a time of enjoyment with doughnuts and crepes with cheese – culminating on Fat Tuesday (Shrove Tuesday to the English).

After that Lent is a time for quiet reflection and reappraisal with all good Polish Catholics making sure that they get to Church and Confession. In Kidderminster that means the beautiful little Church of Our Lady of Ostra Brama perched on the hillside on Pitt Street. There you will be warmly welcomed by our enormously popular, very hard working, and quite rightly, very demanding shepherd Father Jacek Trochim.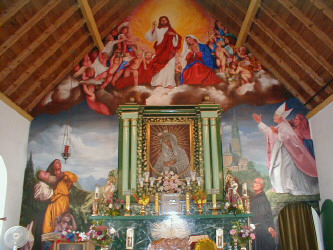 Today perhaps fewer Poles give up eating meat for Lent but herring and also zur (a meatless soup made from fermented rye flour) remain popular Lenten dishes. Dancing during Lent is very definitely frowned upon.
Palm Sunday is celebrated as by English Catholics. During the rest of Holy Week it is traditional to tidy and clean the home before the actual Easter weekend.
Colouring eggs for Easter is a very old tradition usually taking place on Holy Thursday or Good Friday and using natural dyes.
Today beautifully painted wooden eggs are also very popular as Easter decoration. In Kidderminster these can be purchased for £1.00 each - in support of Polish children in need - from Father Bernard's Children's Fund who can be contacted on Kidderminster (01562) 823911.
Of course attendance at Mass on Holy Thursday, Wielka Noc ('Great Night' meaning Easter Friday), Easter Saturday, and Easter Sunday is essential for Polish Catholics.
On Easter Saturday it is traditional for the lady of the house to take Swieconka to Church to be blessed by the Priest. In Kidderminster this sometimes also takes place at the Polish Ex-Servicemen's Club in St. George's Terrace.
Swieconka is the basket of food usually lined with the homemade linen or special cloth that she has woven, crocheted, embroidered or inherited.
Traditionally the basket will contain:-
a lamb – representing the lamb of God – made of butter, cake or sugar;

eggs – the symbol of new life;

meat – signifying prosperity;

horseradish – a bitter herb signifying the suffering of Christ;

salt – which in Polish tradition is presented to guests as a sign of welcome and hospitality;

greenery of some sort – as a symbol of the awakening and greening earth;

bread – as a symbol of the bread of communion and the Last Supper.
The same name, Swieconka, is also given to Easter Sunday Breakfast which might consist of cold baked ham, fresh sausage with marjoram, smoked sausage, thickly sliced rye bread, butter lamb, beet relish, hard boiled eggs and almond pastry.
The head of the house cuts a hard boiled egg, blessed the previous day, into segments one of which is offered in turn to each of the people present with wishes for long life and happiness and joy on this Easter Sunday.
While the breakfast is traditionally a cold collation the other meals of the day could be a variety of dishes. These might include barszcz – the Polish beetroot soup; a broth made of beef served with noodles; sauerkraut soup with sausage; certainly meat of some sort; eggs; baked breads and sweets accompanied by wine or vodka.
As the Easter "Breakfast" should come after the "Resurrection Mass" on Easter Sunday Morning it is understandable that it has drifted into being an Easter "Lunch".
An Easter Lamb takes pride of place on the Easter table in the centre of a white table-cloth. The lamb may be made of cake, butter or sugar. With the lamb is a little banner of victory often depicting a lamb balancing a cross on one of its hooves.
Baba, which may take its name from the Polish word for an old woman, is the special rich Polish Easter cake beloved by Polish youngsters.
The Monday after Easter is called dyngus day in Poland when Bigos – the Polish national stew of cabbage, sauerkraut and meats – is popular particularly if the weather is chilly.
Fortunately Kidderminster Poles do not inflict the Easter Monday tradition of "Smingus-Dyngus" – pouring water on one another – on unsuspecting English neighbours. In Warsaw any passer by is likely to be soaked at any moment by mischievous school children armed with water pistols, bottles, or even buckets of water!
For Poles, whether in U.K., scattered world wide, or at home in Poland, Easter is the most important festival of the year.
We wish you all a peaceful, happy and appropriately reflective Easter!