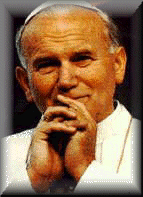 ---
Happy the peacemakers: they shall be called Sons of God.
(Matt. 5:9)
---
The Gospel of Christ is a Gospel of peace. And the driving force of evangelical peace is truth.
Jesus revealed to man the full truth about man; he restores man to the truth about himself by reconciling him with himself and by reconciling him with others. Truth is the driving power of peace because it reveals and brings about the unity of man with God, with himself and with others.
Forgiveness and reconciliation are constitutive elements of the truth which strengthen peace and which builds up peace. To refuse forgiveness and reconciliation is for us to lie and to enter into the murderous logic of falsehood.
- Pope John Paul II
Rome 8.12.79
---
Our Lady of Ostra Brama (Polish Matka Boska Ostrobramska) is one of the effigies of Virgin Mary that is venerated in many places, most notably in Poland. There are several shrines with copies of the original Our Lady of Ostra Brama painting located in the Ostra Brama Chapel in Vilnius, Lithuania.
The original painting is 163 x 200 cm large and was painted by an unknown artist on 8 oak planks around 1630. It was covered with silver and golden face around 1671 and on July 2, 1927 cardinal Aleksander Kakowski crowned the effigy with a double crown, as a symbol that Holy Mary is the queen both of Heaven and of Poland.
After the World War II, when most of Polish inhabitants of Wilno were expelled from the city, the cult of the holy icon was continued abroad in many shrines to the Virgin Mary, most notably in Białystok, Drogosze, Kętrzyn, Olsztyn, Skarżysko-Kamienna and Wrocław. The biggest of the churches devoted to Our Lady of Ostra Brama is St. Mary's Church in Gdańsk. There are also several other churches devoted to Our Lady of Ostra Brama in the United Kingdom (Kidderminster), USA and Australia.

home : mass times : church : mural : links