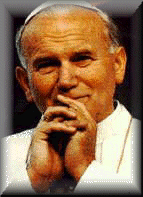 ---
This is the victory over the world – our faith.
(I John 5:4)
---
Today, in fact, an enlightened, deep, logically personalised faith is necessary, and this can only be achieved by means of reflection, in order not to let it be disturbed and swept away by the impetuous fury of current opinions, morals and mentality.
Continue, therefore, to meditate from time to time on the supreme truths revealed by Jesus and taught by the Church, which illuminate our destiny in a unique and determinant way: commit yourselves to being more and more men convinced about the truth of faith!
This is what the times require; this is what the Lord demands of us, each in his profession, in his work.
Pope John Paul II
Rome 27.3.80
---
News Update!
Latest News...
THURSDAY 11th NOVEMBER
Polish Independence Day - Holy Mass at the Church in the morning.
SUNDAY 14th NOVEMBER
Polish Independence Day (November 11th) - Celebration at the Polish Ex-Servicemen's Club, St. George's Terrace, Kidderminster.
---
News Ticker provided by Catholic World News
---
Diary of recent events...
Thursday 23rd September 1999
This web site formally launched by Ks. Jacek Trochim at the Consulate of the Republic of Poland for the West Midlands in Kidderminster.
Ks. Jacek Trochim