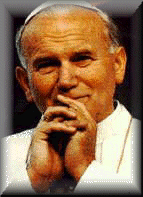 ---
You will learn the truth and truth will make you free.
(John 8:32)
---
I know that all men and women of good will can understand all this from personal experience, when they listen to the profound voice of their hearts.
For this reason I invite you all, all of you who wish to strengthen peace by putting back into it its content of truth which dispels all falsehoods: join in the efforts of reflection and of action by examining your own readiness to forgive and be reconciled, and by making gestures of forgiveness and reconciliation in the domain of your own family, social and political responsibilities. You will be doing the truth and the truth will make you free.
The truth will release unsuspected light and energy and give a new opportunity for peace in the world.
- Pope John Paul II
Rome 8.12.79
---
Our Mural!
For thirty years after the building of the Church in the mid 1960s the wall behind the altar remained a plain white void.
Today it boasts a magnificent mural, commissioned by Father Jacek Trochim, and painted by twins Mark and Paul Kaiser between August 1995 and May 1997.
The mural depicts Christ in Glory with the Mary, Mother of God and Queen of Poland, above an earthly landscape which is obviously Polish and which, amongst much else depicts the famous Polish shrine of the Monastery of Jasna Gora and life size representations of Pope Jonh Paul II and Saint Maximilliam Kolbe.
Since its completion the mural has excited considerable interest and media publicity and has been the centerpiece of visits by both Archbishop Wesoly, who at that time was responsible for the vast Polish community outside Poland, and the Archbishop of Birmingham.
This magnificent mural is an outstanding contribution to devotional art at the end of the 20th Century. Hopefully it will inspire visitors for many years to come.

home : mass times : our church : our mural : links
---